A great time was had by all, tasting and toasting at the kitchens of Coast to Coast catering. Our wedding couple Sandy and Jason  (featured in our last blog), joined Chef Dan and wife Suree to sample selections from the menu for their wedding this autumn "up 'ta camp" in Waterboro, Maine.
Chef Dan prepared a cross-section of dishes from their custom designed menu. Passed Hors D'oeuvres included:
Cilantro lemon grass lobster spoons with micro greens, Ahi poke with crisp wonton shell and wasabi caviar and Thai chicken satay with spicy tamarind peanut sauce.
Then on to some entree' favorites. Suree's Salmon, wrapped with Thai vegetables & a kaffir beurre blanc. Chef's Lobster scampi parmesan gnocchi was a huge hit as well! The pommeray mustard rubbed prime rib with horseradish crème freche au jus and bernaise, is a classic for which chef is known  "coast to coast".
Prosecco was poured all around to toast the upcoming nuptials, and in the inimitable words of chef Dan " Let's get this party started!"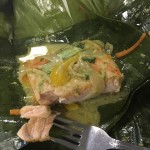 Salmon Wrapped in Banana Leaf 
Four six ounce portions
Marinated Salmon in Lemon, Lime Zest, Garlic, Salad Oil
Julienne one onion, one carrot, one red bell pepper, 4 0z Shitake Mushroom, Four pieces scallion, 1 tbs chopped garlic, 1 tbs chopped ginger, green Thai chili paste. (You can use ant vegetable desired)
Sautee ginger, garlic , and green chili paste for30 seconds add the rest of ingredients cook lightly, add coconut milk 8 oz. Salt and pepper. Since we will be steaming the vegetable in the salmon  cook the vegetables aldente ( firm to the bite)  Chill
Cut the banana leaves  (you can find in most Asian markets) to wrap the salmon, place stir fried vegetable on the bottom of Banana leaf, place salmon on top and some vegetable on top.
Wrap salmon tight and tie with butchers twine or the stems from the banana leaf.
Steam in a perforated pan, with water (can season the steamed water with ginger and lemon to give it extra flavor and love)
Cook to 125 degrees. Open in front of guest with scissors. Perfume the room.
Optional soy sesame burre blanc, if you are watching calories skip the sauce.  Saute 1 oz shallots, add 4 oz chardonnay, reduce until almost gummy (sec) when the Reduction is not to hot or to cold add unsalted butter whisking continuously until sauce has come together.
Add 1 tbs soy sauce, 1 tps sesame oil
                             ENJOY