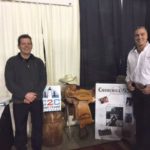 Sunday Jan. 29th Coast2 Coast Caterers attended the largest wedding show
north of Boston-at Univ. New Hampshire's Whitmore Center.
Couples and families stood in line for our smoked pulled pork, and met  Kenny, from Churchill Weddings and Occasions. Kenny entered couples in a drawing for a no venue fee wedding at  his newly restored barn in York, Maine. Couples commented that they prefer a country setting where everyone can relax and have fun.  I look forward to preparing anything from fine dining to barbecue's at Kenny's Ranch.  We'll work together to make your dreams come true !